Filter by Category
Youth 14-18 years old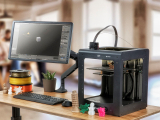 Using AI and Computer Vision - Portland0
with Ahmad Tafti

Jun 20, 2022 at 9 am

, runs for 1 week
Object Detection; Computer Vision; Self Driving Cars; Artificial Intelligence... if these sound like a cool thing to be learning about and getting real world experience in, then check out this year's offering out of the USM Dubyak Center for Digital Science and Innovation.
In this summer class/camp, you will learn -from scratch- about YOLO ("You Only Look Once") which is a precise and effective real-time object recognition algorithm. We will discuss an object detection mechanism in practice with several hands-onpractices starting from manual image annotation to programming and implementation to make YOLO up and running. We, together, will explore what YOLO computational vision algorithm is, what is does, and how.
The USM 2022 Summer Class on AI-Powered Object Detection program is structured such that besides attending lectures, the students will be also working in teams on a project assignment. The team projects will be evaluated by a committee of the summer program, and there will be three awards in the end of the summer school.
Half of each day class will be devoted to lectures, with the remaining time used for practical work in teams on solving object detection in digital images.
For a full description, you can check out the PDF document for more info.
Offered free due to donations from the USM Department of Computer Science. 
Open to students currently enrolled in high school (grades 10, 11, and 12).
2022 ALL CAMPS and CLASSES ARE BEING PLANNED FOR IN-PERSON.
IF REQUIRED DUE TO STATE OF THE PANDEMIC, THE CAMPS WILL BE ONLINE OR HYBRID THIS SUMMER. If conditions require online or hybrid operations, all camper families will have the opportunity to cancel for a full refund. If camps are offered in person, then normal cancellation policy remains in effect.
Click here to see the FAQ Page
Click here to see the Policies and Forms Page
Full Course
CubeSat Camp - Portland2
with Asheesh Lanba

Jul 11, 2022 at 9 am
UPDATE: 4/19/2022 - we received some external funds to help with this camp and have been able to drop the cost from $550 to $$375. Anyone who registered before and paid the full amount will get a check refund for the difference.
Campers will use programmable sensor packages and 3D printed cases to build their own CubeSat modules. CubeSats are designed to be nanosatellites and while ours won't be going into space, they are very similar in design as the 1200 CubeSats that have gone into space so far. 
Each CubeSat is 10cm x 10cm x 10cm and contains a sensor pack, a controller, a power supply, and a data storage unit. Each camper will be able to design a sensor mission for their CubeSat and we will be bench testing them and then at the end of the week, weather allowing, the campers will go to a nearby airfield and their CubeSats will be taken up to a high altitude (14,000 feet) and the CubeSats will collect data that the students will then be able to analyze when the CubeSats are returned to Earth.
Campers will be able to keep their CubeSats at the end of the camp and the programming language is free so they will be able to continue using it and reprogramming it on their own.
This program will be running on the Portland campus of USM. 
If weather is bad during the camp week, a rescheduled launch will be performed and campers will be able to come out to the launch field and do the launch at that time, unfortunately transportation may not be available on rain dates.
Ages: 13-17
Campers will need to bring their own lunch, but snacks are provided.
This camp includes a field trip, weather permitting, to the Skydive New England Airport in Lebanon, Maine.
2022 ALL CAMPS ARE BEING PLANNED FOR IN-PERSON WITH THE OPTION OF ONLINE ATTENDANCE. IF REQUIRED DUE TO STATE OF THE PANDEMIC, THE CAMP WILL BE ONLINE THIS SUMMER.
Click here to see the 2022 Camp FAQ
Click here to see the 2022 Camp Policy and Form Pages
Payment plan available: $100 deposit plus 2 payments of $91.66, paid every two weeks. Final payment of $91.68.
Will run