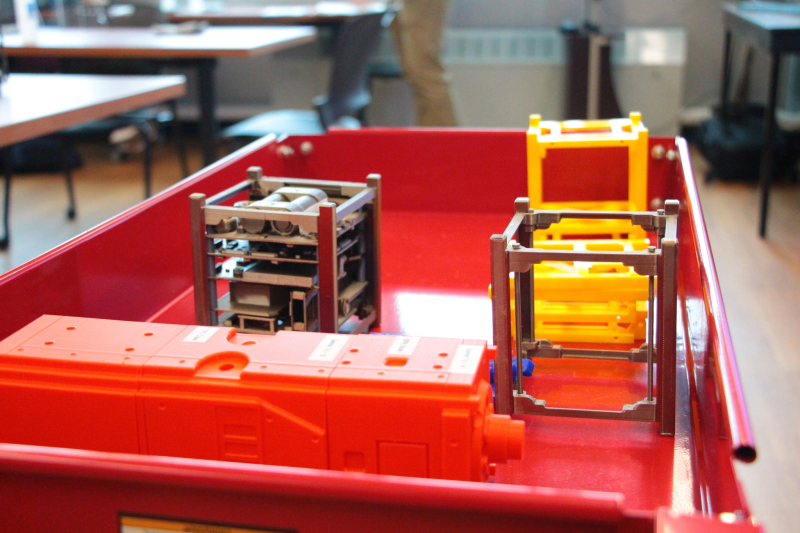 CubeSat Camp - Portland2
with Asheesh Lanba
$37500
UPDATE: 4/19/2022 - we received some external funds to help with this camp and have been able to drop the cost from $550 to $$375. Anyone who registered before and paid the full amount will get a check refund for the difference.
Campers will use programmable sensor packages and 3D printed cases to build their own CubeSat modules. CubeSats are designed to be nanosatellites and while ours won't be going into space, they are very similar in design as the 1200 CubeSats that have gone into space so far. 
Each CubeSat is 10cm x 10cm x 10cm and contains a sensor pack, a controller, a power supply, and a data storage unit. Each camper will be able to design a sensor mission for their CubeSat and we will be bench testing them and then at the end of the week, weather allowing, the campers will go to a nearby airfield and their CubeSats will be taken up to a high altitude (14,000 feet) and the CubeSats will collect data that the students will then be able to analyze when the CubeSats are returned to Earth.
Campers will be able to keep their CubeSats at the end of the camp and the programming language is free so they will be able to continue using it and reprogramming it on their own.
This program will be running on the Portland campus of USM. 
If weather is bad during the camp week, a rescheduled launch will be performed and campers will be able to come out to the launch field and do the launch at that time, unfortunately transportation may not be available on rain dates.
Ages: 13-17
Campers will need to bring their own lunch, but snacks are provided.
This camp includes a field trip, weather permitting, to the Skydive New England Airport in Lebanon, Maine.
2022 ALL CAMPS ARE BEING PLANNED FOR IN-PERSON WITH THE OPTION OF ONLINE ATTENDANCE. IF REQUIRED DUE TO STATE OF THE PANDEMIC, THE CAMP WILL BE ONLINE THIS SUMMER.
Click here to see the 2022 Camp FAQ
Click here to see the 2022 Camp Policy and Form Pages
Payment plan available: $100 deposit plus 2 payments of $137.50, paid weekly.
Jul

11

-

15th

,

2022

Mon - Fri

from

9:00 am - 3:30 pm
University of Southern Maine (Portland)
70 Falmouth Street
Portland, ME 04103 Get directions
Room: 160