Filter by Category
Our Classes
Programming in Minecraft - Portland
with Loren Arford

Jul 23, 2018 at 9 am

, runs for 1 week
With over 100,000,000 registered users, and over 34,000,000 paid computer users and another 30,000,000 paid mobile users, Minecraft has become one of the world's top games, and certainly the top creative game. There are almost 1,000,000 people playing Minecraft at any moment! You probably know lots of people who spend time creating houses, roads, towns, mines, as well as gather experience points by battling monsters (mobs). What if you could start learning how to change what you are doing, not just playing with what the game comes with? In the Programming in Minecraft Camp we will be using the MinecraftEDU software and Tynker software to start learning how to modify the gaming environment. Will there be time to "just play the game?", yes, but the focus will be on learning new skills that relate to programming in the environment. You do not need to have a Minecraft account, but you should bring your login information with you if you have an account so you can play as yourself. Open to ages 10 to 14
Payment plan available: $150 deposit plus 3 payments of $65.00
Programming in Minecraft - Rockland
with Loren Arford

Aug 13, 2018 at 9 am

, runs for 1 week
With over 100,000,000 registered users, and over 34,000,000 paid computer users and another 30,000,000 paid mobile users, Minecraft has become one of the world's top games, and certainly the top creative game.
There are almost 1,000,000 people playing Minecraft at any moment! You probably know lots of people who spend time creating houses, roads, towns, mines, as well as gather experience points by battling monsters (mobs).
What if you could start learning how to change what you are doing, not just playing with what the game comes with? In the Programming in Minecraft Camp we will be using the MinecraftEDU software and Tynker software to start learning how to modify the gaming environment. Will there be time to "just play the game?", yes, but the focus will be on learning new skills that relate to programming in the environment.
You do not need to have a Minecraft account, but you should bring your login information with you if you have an account so you can play as yourself.
Open to ages 10 to 14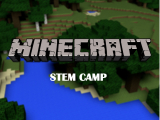 STEM Camp - Berwick
with Brigette Dumont

Jul 16, 2018 at 9 am

, runs for 1 week
This camp will be an opportunity for campers to learn about STEM (Science Technology Engineering Mathematics). They will be having fun with LEGO Robotics, Programming and coding with Minecraft and learning a little about 3D printers. Please join us for our Winter Break Camp and have some fun while learning with and about STEM.
Open to children, ages 9 to 14.
Payment plan available: $150 deposit plus 2 payments of $70.00